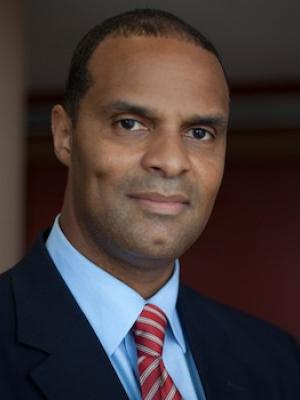 Rober J. Vlasic Dean of Engineering
University of Michigan-Ann Arbor
Email
Education
Princeton University, PhD '92, 

MA '88

Rensselaer Polytechnic Institute,  BS '86
Research Interests
Electric Propulsion

Space Propulsion

Plasma Physics
Professional Service
AIAA (Amercian Institute of Astronautics and Aeronautics) – Fellow

Electric Rocket Propulsion Society (ERPS) – Board Member

ASEE (American Society for Engineering Education)

Assoc. Editor for AIAA Journal of Propulsion & Power

Assoc. Editor for Joint Army, Navy, NASA, Air Force (JANNAF) Propulsion Journal

Defense Science Board Task Force on Force Modernization 1999

Secretary for Electric Rocket Propulsion Society (ERPS)

Member of Defense Science Study Group (DSSG) 1995-1997

Member, Air Force Scientific Advisory Board, 2001-2005

Advisor, Air Force Scientific Advisory Board, 2005-present

Sigma Gamma Tau

Sigma Xi

Tau Beta Pi

National Academy of Engineering
Biography
Alec D. Gallimore, Robert J. Vlasic Dean of Engineering, Richard F. and Eleanor A. Towner Professor of Engineering, formerly Associate Dean for Research and Graduate Education from 2011 to 2013 and Associate Dean for Academic Affairs in the College of Engineering from 2014 to 2016. He is a member of the Applied Physics graduate program; from 2005 to 2011, Professor Gallimore served as an Associate Dean at the Horace H. Rackham School of Graduate Studies where he was the Graduate School liaison to Michigan's graduate programs in engineering, the physical sciences, and mathematics.
Professor Gallimore's primary research interests include electric propulsion, plasma diagnostics, space plasma simulation, electrode physics, nano-particle energetics and hypersonic aerodynamics/plasma interaction. He has extensive design and testing experience with a number of electric propulsion devices including Hall thrusters, ion thrusters, RF thrusters, microwave thrusters, arcjets, 100-kW-class steady MPD thrusters and multimegawatt pulsed coaxial plasma accelerators. He has implemented a variety of probe, microwave, and optical/laser plasma diagnostics, and has graduated 39 PhD students and 14 MS students in the fields of electric propulsion and plasma physics.
Professor Gallimore has written more than 300 archival journal articles and conference papers, and 2 book chapters. He is also director of the NASA-funded Michigan Space Grant Consortium and director of the Michigan/Air Force Center of Excellence in Electric Propulsion. Professor Gallimore has served on a number of NASA and Department of Defense boards and studies, including being a member of the United States Air Force Scientific Advisory Board.  Professor Gallimore is a fellow of the Americian Institute of Astronautics and Aeronautics (AIAA).  He was elected into the National Academy of Engineering in 2019.
POSITIONS HELD AT MICHIGAN
Robert J. Vlasic Dean of Engineering (2016-present)

Richard F. and Eleanor A. Towner Professor of Engineering (appointed 2015)

Associate Dean for Academic Affairs (2014-2016)

Associate Dean for Research and Graduate Education (2011-2013)

Arthur F. Thurnau Professor (appointed 2006)

Associate Dean for Academic Programs and Initiatives, Horace H. Rackham School of Graduate Studies (2005-2011)

Professor (2004-present)

Associate Professor (1998-2004)

Associate Professor of Applied Physics (1998-2004)

Director, Michigan Space Grant Consortium (NASA) (2000-present)

Head of the Plasmadynamics and Electric Propulsion Laboratory (PEPL)

Assistant Professor of Applied Physics (1994-1998)

Assistant Professor (1992-1998)