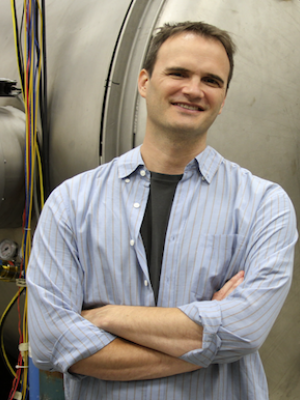 Physics-based Modeling & Integration, Lead
University of California Los Angeles
Email
Richard Wirz is a Professor in the Mechanical and Aerospace Engineering Department at UCLA and holds a joint appointment in JPL's Electric Propulsion Group at JPL. He is the Director of the UCLA Plasma & Space Propulsion Laboratory and the UCLA Energy Innovation Laboratory. His plasma and space related research focuses on advance propulsion concepts and the plasma science relevant to these devices. His energy research currently focuses on new approaches to fusion energy, solar thermal energy storage, and wind energy capture. Prof. Wirz received a B.S. in Aerospace Engineering and a B.S. in Ocean Engineering from Virginia Tech and an M.S. and Ph.D. degree in Aeronautics and Applied Sciences from the California Institute of Technology (Caltech).
Education
Research and Interests
Electric and micro propulsion, low temperature plasma and plasma discharges, spacecraft and space mission design, alternative energy generation and storage.
Patents
Wirz R.E., Aspe S., "Integrated Wind Turbine," Patent No. US 9,228,564, Jan. 05, 2016
Wirz R.E., "Accelerator System and Method for Accelerating Particles," Patent No. US 7,773,362 B1, Aug. 10, 2010
Wirz R.E., "Internally Conductively-Heated Cathode," Patent No. US 7,471,035 B2, Dec. 30, 2008
Conversano R.W., Goebel D.M., Wirz R.E., "Magnetically Shielded Miniature Hall Thruster," Patent Application No. US 14/506,635, filed Oct 4, 2014
Wirz R.E., Stopin A., Tse L.A., Lavine A.S., Kavehpour H.P., Lakeh R.B., Furst B., Bran-Anleu G. , Garcia-Garibay M.A., "High-Density, High-Temperature Thermal Energy Storage And Retrieval ," Patent Application No. US 14/475479 , filed Sept 02, 2014
NASA Tech Briefs
Wirz R., Gamero, Goebel D., "Pulsed Operation of an Ion Accelerator," NASA Tech Brief, NPO-44961, pg. 52, Vol. 33, No. 2, Feb 2009.
Goebel D., Polk J. E., Wirz R., "Increasing the Life of a Xenon-Ion Spacecraft Thruster," NASA Tech Brief, NPO-43495, Vol. 31, No. 11, Nov 2007.
Awards And Recognition Professional Society Memberships
Senior Member, American Institute of Aeronautics and Astronautics, AIAA
Institute of Electrical and Electronics Engineers, IEEE
Power & Energy Society
Nuclear and Plasma Sciences Society
Sigma Gamma Tau, Aerospace Honor Society
Electric Rocket Propulsion Society, ERPS
American Solar Energy Society, ASES
Part-time Senior Engineer at NASA's Jet Propulsion Laboratory at the California Institute of Technology